To all our friends and customers. As you know because of Covid-19 we have not done any shows since late March and it does not look like we will be doing any until a vaccine has been found. However, if for some reason we are fortunate enough to have a few shows this fall we will certainly post them on this website.
We are trying to be more diligent in updating our work so that what you see on the website is what is available. Remember that we are always happy to create something different if you don't see anything you like, you just need to get in touch with us.
We are offering Free Shipping until the end of the summer and we are now donating 10% of all our sales to Dana Farber in Boston for their research in brain cancer.
Thank you and enjoy browsing!
Ron and Don Andrews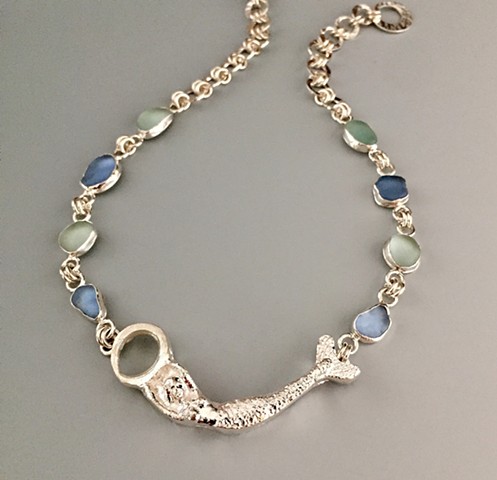 Beachcombings Studio creates handcrafted one-of-a-kind seaglass jewelry that speaks of the natural world. We combine treasures discovered on the beach, precious and semiprecious stones, and sterling silver in simple, elegant designs that echo time spent by the shore.
Our work is a family effort that draws on each of our individual talents; we work with the materials we love. Much of the seaglass we use comes from Maine, the United Kingdom, Nova Scotia and Lake Champlain representing years of collection. Bezels and cuffs are made from hand-cut, hand forged, and hammered silver, and bails are crafted from 14- gauge sterling silver wire.
All of our pieces are unique and though we can duplicate the style, we cannot replicate the glass. We are also more than happy to design a one of a kind with one's personal seaglass.
As all of our pieces are one of a kind we have found that it is impractical to try and stay current with our inventory. Instead we are offering this website as a catalog of sorts. That is, if you see an item that you like, please contact us with the name of the item and we will duplicate it as best we can. The design will be the same but we cannot guarantee that the color and shape of the glass will match.We will, upon request, email a photo of the piece of seaglass that we plan to incorporate in your selection.
Thank you for taking the time to browse our website. Enjoy!